Recently, i had another hardware failure of my Asus G73JH (the GPU seems a bit dodgy in these units, and the TFT screen will quite suddenly fail), for the second time in a year. Disappointing, but at least it's covered by warranty and Asus do seem to have a quick turnaround for repairs. However, their choice of courier is terrible.
Both times that I've had to deal with DPD couriers, I've been left frustrated by their inability to carry out the basic tasks required of a delivery company.
They will only tell you (by text) one day before that they plan to deliver the following day, but not what time. They don't, at this point, give you the opportunity to change it.
The following day, they will text you and inform you of their delivery window. This isn't particularly useful for people who plan their day more than a few hours in advance.
You can change the delivery day, but not the time, but even then only with a choice of three subsequent (week)days.
You can pick up the parcel from the depot, but chances are that they're a long way away, you have to book your visit in advance, and they're not open until 9am.
You can't redeliver to a different address.
I'm not the only person to be disappointed by DPD couriers performance, either.
If you want to call them, and speak to someone, it seems that the only way to do it is to call 0845 556 0560 and simply don't select any of the options, for ages. Eventually you'll get put through. Of course, when you do, you'l most likely get put through to someone like "Vanetta" (whom I spoke to today, but I don't think that's a real name), who will just answer your questions like you're insane, and will make you work incredibly hard to tease out the details of how you might actually obtain your goods. Not that she could just provide some help, no, you've got to investigate the options and work out it out for yourself.
So in the end, I decided that the easiest thing would be for me to drive out to the DPD depot on monday morning to pick it up. It's a 40 minute drive, but better than hanging around and waiting for someone to turn up whenever they fancy.
UPDATE: I drove to the DPD depot on Monday morning to pick up the laptop. You have to ring the doorbell to be let in, and there's a little sign saying that you might be searched. Nice touch.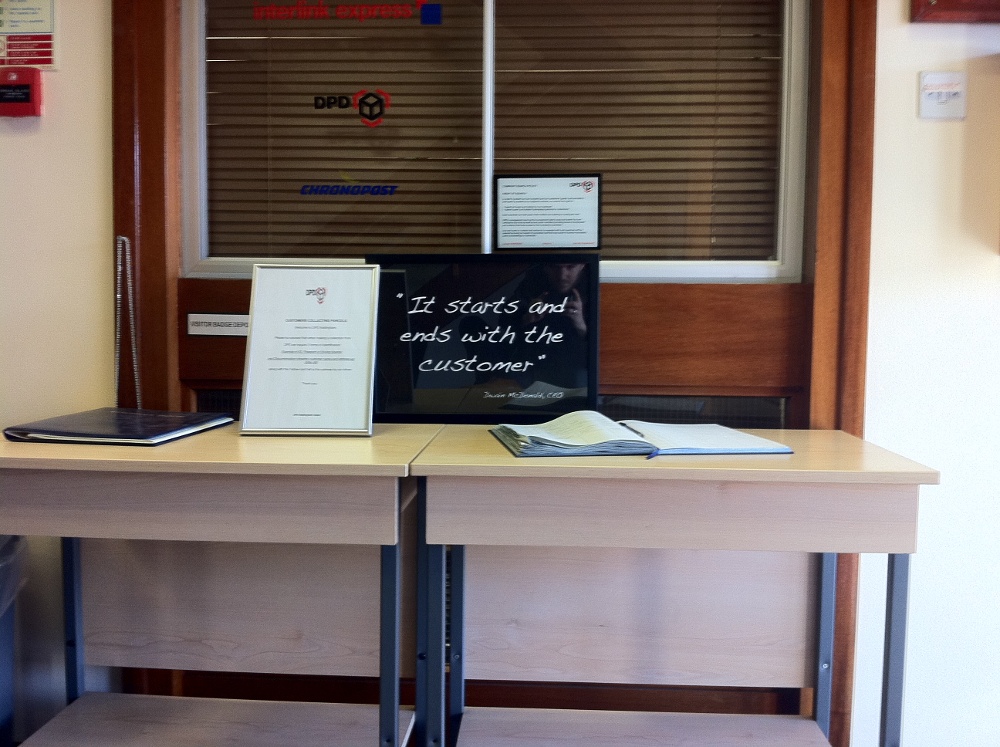 I provided my details to a lady who then disappeared off to find my laptop. She was gone some time, and eventually returned about 15 minutes later to inform me that the laptop's been sent out for delivery to my home address, and that I could either go home and wait for it, or arrange to pick it up tomorrow. I've about had enough of this by now, so I change my plans for the day, head home, and wait for DPD couriers to deliver, again.
Is it really this hard to deliver packages from one place, to another?
2ND UPDATE:
DPD still hadn't delivered by 2:30pm, so I rang them. They checked the consignment number and apparently, it's still at the depot, waiting for me to pick it up. They are now "looking into it."
3rd UPDATE:
They sent a guy round at 3:50pm, after I kicked up a little bit of a fuss. The laptop is now back in my possession, and I'm never going to let DPD couriers anywhere near it ever again.