In our service desk, where a device is reported as being slow, broken, malfunctioning, or for any other reason the user wishes to have it replaced, we first determine the age of the device. If the device is outside of the standard hardware lifecycle, it will be replaced, because the maintenance and TCO (Total Cost of Ownership) of devices older than the standard lifecycle is more costly than the replacement costs. If it's within the life cycle, it will either be repaired, or we'll evaluate if the user actually needs a more capable machine to carry out their role.
TCO vs age: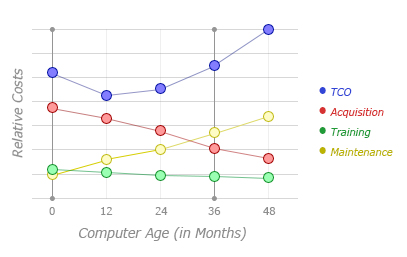 In very general, cumulative terms, the TCO of a device increases over time. When the annual TCO exceeds the cost of a new device, it is overdue to be replaced.
TCO includes:
Increased support resource costs.

Cost of replacement components.

Loss of productivity of the employee using the device.

Added complexity from maintaining an older (less uniform) fleet.

Security concerns due to older devices.

Power usage.

Staff morale.
An example of a standard hardware lifecycle is:
Laptops – 3 years

Desktops – 4 years

Monitors – 5 years

Servers and network hardware – 5 years

Mobile phones – 2 years

Printers – 3 years (but using a managed service lease contract)
This is standard across the IT industry, although many science/tech firms may have dramatically shorter lifecycles due to the higher workloads that devices are expected to handle.
The above lifecycle means that we will maintain a life cycle of replacing 33% of our laptops each year, 25% of our desktops, 20% of our monitors, and so on. This is the staggered approach; some firms employ the forklift approach which means replacing (e.g) the entire laptop fleet once every three years. This impacts cash flow harder, and can be more disruptive during the change, but has the advantage of delivering a perfectly uniform fleet of hardware each time. Many contact centre-style businesses employ this approach.
The only time I've modified this life cycle is when the company I've worked for has gone through cash flow difficulties, and we've extended the replacement period with a "promise" to pull it back in-line when cash allows. Of course, the promise is rarely fulfilled…